Leestijd:
2
minuten
Content marketeers produceren massa's blogs, whitepapers, case-studies, video's en meer… Maar welk type content heeft de hoogste ROI en is het meest effectief? Welke content marketing strategie en tactieken voor online lead generatie en lead nurturing werken het best?
TechValidate heeft onderzoek gedaan onder 230 B2B marketing professionals in de VS. Uit dit onderzoek bleek dat klant-refenties en case-studies de beste (ROI) resultaten opleveren, maar ook de meeste tijd kosten om te produceren. Blogpostings zijn prima om een campagne te lanceren en traffic te genereren maar leveren als entiteit per saldo de laagste ROI op.
Blogs zijn vooral de aanjagers voor een Call to Action maar zijn geen premium informatie waarop geconverteerd wordt, zoals bijvoorbeeld het downloaden van een whitepaper of aanmelding voor een webinar.
Natuurlijk zul je zelf moeten onderzoeken wat voor jouw buyer persona het beste werkt. Het mappen van de juiste informatie tijdens de klantreis is essentieel om de effectiviteit zo hoog mogelijk te krijgen. Dit onderzoek onder B2B marketeers geeft inzicht in 'best practices'. Zelf testen en meten van effectiviteit levert je uiteindelijk natuurlijk de beste inzichten op.
Content Marketing ROI
Type content meest effectief voor lead generatie
Ook interessant als uitkomst uit het onderzoek is de effectiviteit van content per type toepassing zoals leadgeneratie of lead nurturing. Onderstaand infographic geeft een overzicht van meest en de minst effectieve content marketing componenten ten behoeve van leadgeneratie: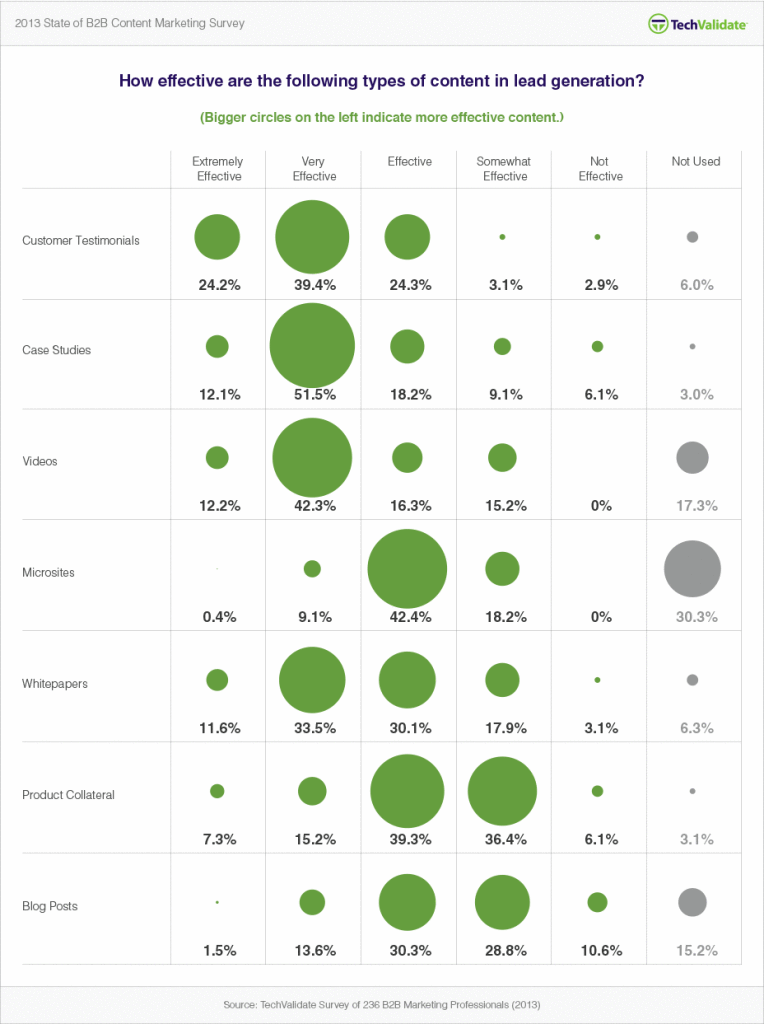 Type content meest effectief voor lead nurturing
Onderstaand infographic geeft een overzicht van meest en de minst effectieve content marketing componenten ten behoeve van leadnurturing: